Meet Dr. Zachary Martin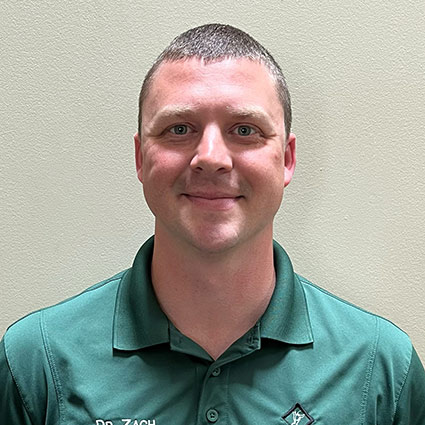 "For me, the most fulfilling aspect of being a chiropractor is getting to see people's life experiences enhanced. It's rewarding when they can live their life to their optimal potential without drugs or medicine." As part of the Maximum Potential Chiropractic team, Dr. Zach looks forward to helping change the health of our Medina community and society.
Experiencing the Effects of Chiropractic
Dr. Zach grew up being very active and played about every outdoor sport you can imagine. During the middle of one of his high school wrestling seasons, he wasn't able to compete at a few matches because of low back pain. Fortunately, one of his father's friends was a chiropractor who he had gone to most of his life, and that doctor was able to help Dr. Zach continue to compete through his injuries and finish the wrestling season.
The chiropractic care I received enabled me to participate and excel at high levels in sports. I feel that without chiropractic in my life, I wouldn't be able to do what I do."
Taking the Natural Path
As Dr. Zach's mom, an RN, has always been in the medical field and does life-flight nursing, he considered a career in traditional medicine, even though he wanted to be a chiropractor since he was young. While in high school, Dr. Zach wondered if that was truly what he wanted to do. To find out, he shadowed different practitioners, including open heart surgeons and radiologists, but realized he wasn't passionate about being a medical doctor.
Deciding on the chiropractic path, Dr. Zach earned his Doctor of Chiropractic from Palmer Chiropractic College in Florida.
OUR SERVICES
Helping Patients Across the Spectrum
What gives Dr. Zach great joy is helping people return to the activities they love-the things that give them passion in life.
Whether he's seeing moms and dads, kids, seniors or athletes, Dr. Zach looks forward to meeting every patient, because he knows how chiropractic care can help change their life. He is genuinely excited to hear each patient's story and determine how he can realistically help them achieve their goals.
Enjoying an Active Family Life
When he's not helping patients, Dr. Zach loves spending time with his wife Carly, their young daughter Dakota, and their two dogs Lucy and Eli. The family enjoys being outdoors and loves everything from riding dirtbikes to taking long walks and park trips.
Dr. Zach also coaches youth wrestling and enjoys spending time at their cabin in West Virginia.
Contact us today to schedule an appointment with Dr. Zach! We have same-day visits available.

Dr. Zachary Martin | Maximum Potential Chiropractic