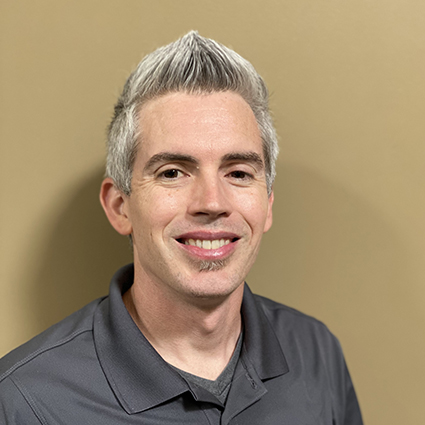 Dr. Matthew Marr
Dr. Matt went up for a layup playing basketball and was hit from behind. He was carried off the court bent in half. Fortunately, his parents took him to the chiropractor, who quickly got him back in the game. From a young age, Dr. Matt knew he wanted to be a chiropractor.
A Focus on Precise Care
To complete his undergraduate education, Dr. Matt majored in molecular biology, knowing it would give him a strong foundation to get started in the natural healing profession. Then, he attended Palmer College of Chiropractic in Davenport, Iowa to earn a Doctor of Chiropractic. Having shadowed several chiropractors already, Dr. Matt knew he would focus heavily on the Gonstead Technique. Just two days into attending school, he was already attending a Gonstead seminar.
He was president of the Gonstead club in school and has taken extensive training and studies in this precise, systematic approach. Additionally, he uses tonal techniques with a light touch that are appropriate for a wide range of people.
A Passion for Helping Others
In practice, Dr. Matt is a genuinely caring, easygoing and compassionate person. He'll focus solely on your concerns, putting you at ease and making sure you know you've come to the right place. "I want to get you back to your best health potential. I love taking care of whole families to make sure they can do everything they want to do and stay healthy."
Often, people who seek our chiropractic think they've tried everything and extinguished all their options. They're just getting by and surviving instead of truly living. Feeling lousy all the time and taking multiple medications is a reality for so many. Dr. Matt loves to open up people's eyes to the possibility chiropractic care presents.
Chiropractic has a real power to let your body heal and allow you to function normally again.
Outside of the Office
If Dr. Matt isn't with patients, you can find him spending time with his wife, Katie, and their son, Lachlan. They love getting outdoors to hike or go rock climbing. Their weekends are often taken up by dog shows, where they show their Gordon Setters. Dr. Matt is also in a band playing banjo, guitar and doing vocals with some of his good friends.
Contact our team today to schedule your first appointment! We have same-day visits available.

Dr. Matthew Marr | Maximum Potential Chiropractic