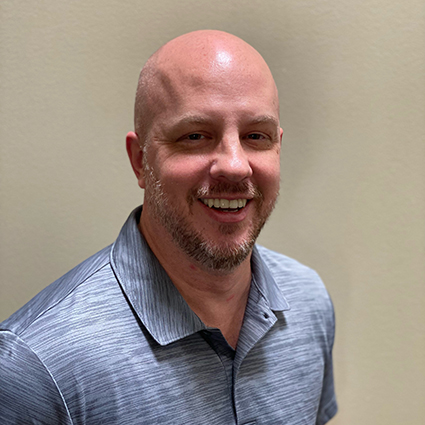 Dr. Stephen Esdinsky
As a self-described "sickly little kid," Dr. Steve was on repeated rounds of antibiotics growing up. He suffered from severe allergies and asthma. Chiropractic was the only thing that helped him. Dr. Steve knew he would become a chiropractor and spread the word about this powerful form of natural health care.
Chiropractic Education
Dr. Steve was originally planning to attend Cleveland University for chiropractic college, as that's where his childhood chiropractic earned his doctorate. That doctor however encouraged Dr. Steve to go to Palmer College of Chiropractic instead.
Following his chiropractor's advice, Dr. Steve attended Palmer and graduated in 2005 with his Doctor of Chiropractic. The first time Dr. Steve adjusted someone, while at Palmer, solidified for him that becoming a chiropractor was what he was meant to do.
Helping People Naturally
Whether he's providing chiropractic care to young children, older seniors or all ages in between, Dr. Steve loves helping patients get back into health without drugs or surgery.
In addition to using hands-on adjusting techniques, Dr. Steve uses technology including state-of-the-art INSiGHT™ Subluxation Station, which takes a surface EMG, thermography and heart rate variability test. The information from the scans allows him to best address each patient's condition.
OUR SERVICES
Becoming Part of the Maximum Potential Chiropractic Team
Before coming to our practice, Dr. Steve worked at a different chiropractic office. Due to the pandemic, however, he found himself out of work. He applied here at Maximum Potential Chiropractic and within about 10 minutes of being in the office, Dr. Steve realized he wanted to work here.
We all mesh well from top to bottom, and I appreciate that there are no egos.
Dr. Steve and his colleagues are passionate about getting the best possible results for patients.
In His Spare Time
Outside the practice, Dr. Steve enjoys reading Star Wars books and watching sci-fi movies. He also likes to read, go on walks, take hikes and occasionally play video games. He also enjoys seeing family when he can, including his parents, older brother and grandparents.
Book an Appointment
Contact us today to schedule an appointment with Dr. Steve!

Dr. Stephen Esdinsky | Maximum Potential Chiropractic