Dr. Kendall Hange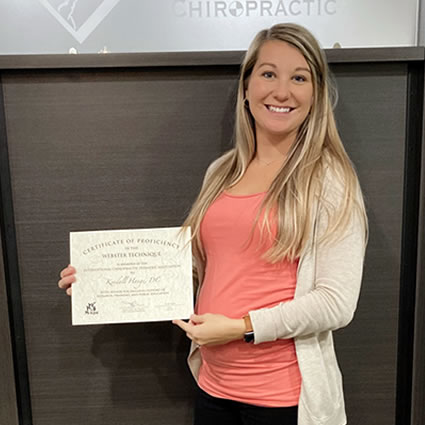 As a chiropractor, Dr. Kendall loves being able to make people's day better and wants to make sure patients come in and leave with a smile. "The best part of my day is feeling like I'm making a difference by determining what a patient has going on and identifying the root of the problem."
Embarking on the Chiropractic Path
While an undergrad studying exercise physiology at Kent State University, Dr. Kendall realized that physical therapy was more of a hoop to jump through for people to get medication and MRIs. She knew holistic healing was what she wanted to provide to patients. "I love being able to help the body heal itself simply by using my touch."
Studying at 'The Fountainhead'
Dr. Kendall earned her Doctor of Chiropractic from Palmer College of Chiropractic in Davenport, Iowa. While there, she had the opportunity to work under her staff doctor to serve a large number of military personnel on base at the Rock Island Arsenal. Dr. Kendall was able to see many people with prior injuries and disc issues get excellent results with chiropractic care in the outpatient facility.
In addition to earning her doctorate, Dr. Kendall also obtained certification in the Webster Technique to help pregnant patients have an easier pregnancy and ideally a smoother birthing experience.
Promoting the Value of Whole Wellness Care
Instead of providing a bandage solution, I get to the root of the problem and then provide a helping hand to get the body to where it's supposed to be.
Dr. Kendall wants to make sure that patients are well-educated on why chiropractic is something they and their families should be using for the rest of their lives for optimal health and whole wellness.
Dr. Kendall is thrilled to be a part of the Maximum Potential Chiropractic team and loves to witness the passion that all our chiropractors share!
OUR SERVICES
Enjoying Family Life
When she's not at the practice, Dr. Kendall loves spending time with her husband Chris (who happened to be her 7th-grade crush!) and her dog. She and Chris got married in July 2020 and are expecting their first child in January 2022. Family is number one for Dr. Kendall, and she enjoys getting together with them and her friends.
Book an Appointment
Contact us today to schedule an appointment with Dr. Kendall!

Dr. Kendall Hange | Maximum Potential Chiropractic