Dr. John Barnosky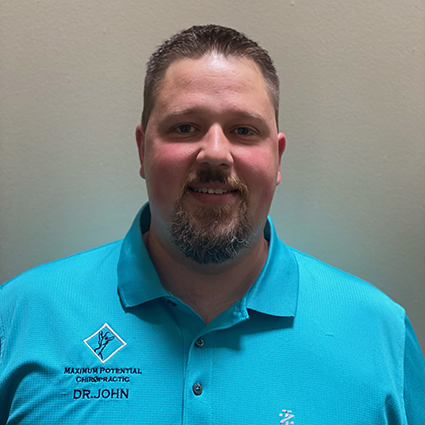 Always having a servant mentality, Dr. John is passionate about helping others and improving their quality of life. While working in a profession that served people was what he wanted to do, Dr. John knew he didn't have a desire to be a medical doctor. An outing one day would spur him onto the natural healing path.
Experiencing the Effects of Chiropractic
Dr. John and his wife Janna were driving on the way to get ice cream. They encountered a driver with road rage; that person drove Dr. John and Janna off the road, and their car struck a utility pole head-on. Fortunately, neither one was seriously hurt. Janna did have a big toe injury. They went to multiple doctors and specialists to get answers.
Although Janna had an MRI done on her foot, nobody could figure out what was wrong. It got to the point where exploratory surgery was recommended! That didn't sit well with Janna or Dr. John. They decided to look into holistic care, and the name of a chiropractor came up.
Initially skeptical, Dr. John didn't think a chiropractor could help with a toe injury. As they had exhausted all other options with no results, they decided to go to the chiropractor. So they went, and that day the chiropractor had Janna walking about 50% better. At that point the light bulb went off for Dr. John; he knew he would become a chiropractor.
Joining the Maximum Potential Chiropractic Team
Dr. John earned his Doctor of Chiropractic from Cleveland University-Kansas City in 2018. That's also when he joined the Maximum Potential Chiropractic team. He did his preceptorship at our practice, gaining valuable real-world experience. Dr. John's preceptorship went very well, so he was delighted to join our team.
Helping Patients Get Back to What They Love
Every day, Dr. John feels honored to assist his patients. One of them couldn't play ball with his sons or even mow the lawn due to his discomfort. After Dr. John adjusted him, the man was able to play sports with his boys.
Another patient had sinus problems and had such severe congestion that she couldn't breathe through her nose. The doctors didn't have answers for her and essentially told her that this would be her new normal. The woman came to see Dr. John, but for pain relief, and he started to treat her. All of a sudden, her congestion was gone and she could breathe through her nose.
It's one thing to help people with their neck pain or back pain—the typical things that bring a person to see the chiropractor—but when you hear about the things that change somebody's quality of life and how they function daily, that's fulfilling.
Passing on the Value of Chiropractic
One of Dr. John's patients posted on a Facebook Group Page a reply to someone considering chiropractic care. Not only did the patient encourage the individual to try it but also was informative, relaying many of the things that Dr. John has taught his patients, such as how chiropractic works and how it's beneficial.
Dr. John found it gratifying to realize that his patients are listening and promoting the value of chiropractic care to others.
Treasuring Family Time
When he's not at the practice, Dr. John loves spending time with Janna, a full-time, stay-at-home mom, and their four young and active sons: Atley, Ryan, Micah and Hudson.
Book an Appointment
Contact us today to schedule an appointment with Dr. John!

Dr. John Barnosky | Maximum Potential Chiropractic